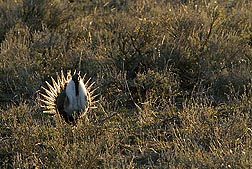 USDA researchers are looking at being able to turn some invasive trees into biofuel. This story from the Agricultural Research Service says they are looking at harvesting native juniper and pinyon trees that have extended out of their natural ranges for biomass. The plan not only produces renewable energy, but it also restores rangeland for livestock and protects critical sagebrush habitat for the western sage grouse and other animals.
In Burns, Ore., research leader Tony Svejcar and others will inventory trees available for harvest and biofuel production. This information can also be used to determine optimal locations for restoring wildlife habitat and locations where harvests could adversely impact existing wildlife. Svejcar works at the ARS Range and Meadow Forage Management Research Unit in Burns.
The scientists will also focus on devising plans for harvesting the trees in a sustainable manner. ARS research leader Fred Pierson plans to conduct experimental juniper harvests on a variety of sites in Idaho to observe how the removal affects erosion, and will use the information to model the environmental impacts of large-scale tree harvests. Pierson, who works at the ARS Northwest Watershed Research Center in Boise, Idaho, will also be monitoring how juniper removal affects large-scale water cycles.
The article also credits David Goodrich, a hydraulic engineer at the ARS Southwest Watershed Research Center in Tucson, Ariz., for his estimates of watershed-level rainfall runoff and erosion to help guide tree harvesting decisions.
More is available in the July 2013 issue of Agricultural Research magazine.