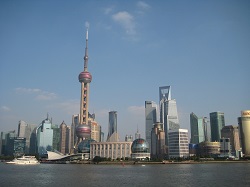 Some 1,000 public buses in Shanghai, China could soon be running on biodiesel made from kitchen waste oil. The Global Times reports it's a pilot program by the city's Food Safety Commission Office to get rid of what is known locally as "gutter oil."
The city started requiring some restaurants and food companies to install grease traps in 2011 so their waste oil could be collected more easily. About 70 tons of waste oil is collected each day, according to the Shanghai Food Safety Commission Office.
The oil is then sent to Shanghai Zhongqi Environment Technology Co to be processed into biodiesel. Zhongqi Environment Technology is one of two companies in Shanghai with government approval to process kitchen waste oil.
The companies producing the biodiesel aren't new to the green fuel, but this will be the first time they are producing it for transportation fuel. Previously, their biodiesel was used in industrial boilers.