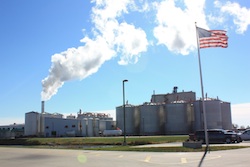 Patriot Renewable Fuels is celebrating its 5 year anniversary. The ethanol biorefinery will be hosting an open house Thursday, August 22 and Friday, August 23, 2013 from 10:00 am to 3:00 pm CST. Patriot is a 120 million gallon per year ethanol producer who has demonstrated several major contributions to the local community, Illinois and country.
According to Patriot's Gene Griffith, the plant has:
Created a new market for corn and purchases 40 million bushels each year. Since 2008, Patriot has purchased approximately 200 million bushels and paid local farmers and elevators more than $1.1 billion and received approximately 220,000 truckloads of corn.
Contributed to Illinois economic growth through direct employment of 55 quality employees. Since startup, compensation and benefits has exceeded $18 million. Contract providers add five to ten additional full-time jobs.
Contributed more than $1.2 billion to the nation's reduction in its dependence on foreign oil by producing a total of more than 550 million gallons of ethanol. This production also reduced the U.S. trade deficit by this amount.
Produce 300,000 tons per year of high quality feed ("DDGS" Dried Distillers Grain and Solubles) for poultry and livestock. 95% is exported to China and other Asian markets. These exports have contributed an additional $300 million reduction to the U.S. trade deficit. Since 2011 Patriot has also produced almost 54 million pounds of non-food grade corn oil which is mostly used in the production of bio-diesel, another renewable fuel.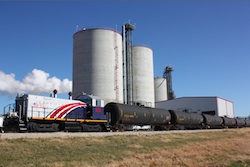 Griffith says Patriot also prides itself as a leader in Safety and Environmental Stewardship. Their goal is Zero recordable incidents. In 2010, the biorefinery was one of the first ethanol facility to adopt a "Zero Liquid Discharge" program.
Griffith said, "Patriot's board and employees are proud of these major accomplishments during a time when the general economy and the nation's financial markets have been stressed. The plant's performance during these first five years sets the stage for continuing contributions to agriculture, to economic development, to the nation's balance of trade, to the independence from foreign oil and to the production of feed and food for an increasing world population."
Griffith stressed that the biofuels industry is under attack by Big Oil and their friends whose profit margins are in "jeopardy" with the success of ethanol. He urges not only the ethanol industry, but also members of Patriot's community and ethanol supporters around the country to get involved in the debate and share personal stories of how ethanol has benefited you. You can share these stories and more on Patriot Renewable Fuels' Facebook page.