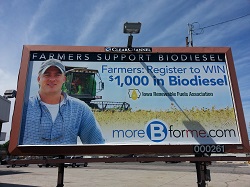 Visitors to the Iowa State Fair will be greeted with a message promoting the use of biodiesel. The Iowa Renewable Fuels Association (IRFA) announced the "More B for Me" billboard campaign aimed at increasing the use of biodiesel in the state, particularly on farms. In addition, farmers could win $1,000 worth of biodiesel:
The IRFA is delivering the biodiesel message on 12 billboards throughout the Des Moines area, focused on routes to the state fairgrounds. The campaign urges the public to increase its use of biodiesel, and encourages farmers to enter for a chance to win $1,000 in biodiesel at www.MoreBforMe.com.
"Iowans greatly benefit from increased biodiesel production and use, especially Iowa's farmers," stated IRFA Communications Director T.J. Page. "Biodiesel production boosts an Iowa farmer's bottom line by increasing the value of soybeans and animal fats, while decreasing the costs of animal feed."
IRFA goes on to cite a study that shows biodiesel production can up a crop and cattle farmer's net income by nearly 17 percent and nearly 20 percent for farmers raising crops and hogs.
Farmers can enter to win $1,000 in biodiesel at www.MoreBforMe.com or by visiting the Renewable Energy Group (REG) booth at WHO Radio's Crystal Studios at the Iowa State Fair. The campaign is part of a joint effort by the IRFA, REG, the Iowa Soybean Association (ISA), and the Iowa Biodiesel Board (IBB).