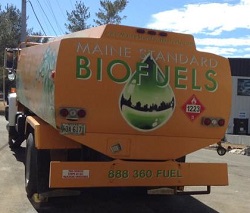 A beverage distributor in New England partners with a local biodiesel brewer to switch its fleet to biodiesel. Biodiesel Magazine reports National Distributors Inc.'s delivery trucks will run on biodiesel made from used cooking oil from Maine Standard Biofuels.
"As a Maine company, we are always striving to find ways to help the environment and protect our state," said Jeff Kane, president of National Distributors. "Our new relationship with Maine Standard Biofuels is a great opportunity for our company to build on our industry-leading efforts to reduce our energy costs and provide the best service to our retailers and customers."
Maine Standard Biofuels, a Portland-based company, is the state's only full-service used cooking oil (UCO) collector and biodiesel fuel manufacturer. The company produces biodiesel using only locally collected and recycled UCO … The company collects UCO from more than 800 restaurants and food manufacturers from Bar Harbor to Kittery.
"We are very pleased and grateful that National Distributors has chosen to use our biodiesel that's manufactured right here in Maine in its trucking fleet," said Jarmin Kaltsas, owner of Maine Standard Biofuel and a former National Distributors' employee. "The company's trucks are very visible on the roads and highways around southern Maine and now people will see a prominent decal showing they're running on Maine biodiesel."
Not only is the biodiesel saving National Distributors money, but the biodiesel is made from waste grease from the very restaurants the company delivers to.