According to an article in the Jamestown Sun, the Dakota Spirit AgEnergy plant located at the Jamestown/Stutsman Development Corp. will be breaking ground on its corn-based ethanol plant on August 9, 2013. Once the first shovels of dirt are moved, Rich Garman, project engineer for Great River Energy, said construction crews will hit the ground.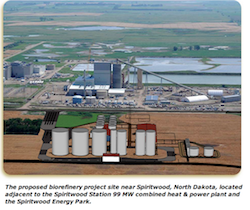 The $150 million ethanol plant will employ approximately 275 people during construction. Once in operation, the plant will employ around 36 people, produce 65 million gallons of ethanol each year and use around 23 million bushels of corn per year.
"We'll start out as corn-based and see what the future brings," Garman said in the article.
Garman said the plant will also use steam from Spiritwood Station, which is currently shut down due to a lack of demand for electricity in Minnesota. "Starting up Spiritwood Station is in response to this. We've already started the process of getting it ready to come online."
Electricity production at Spiritwood Station and ethanol production at DSA are set to begin in January 2015.