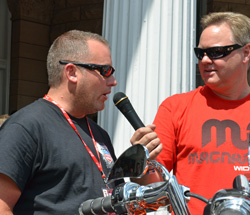 The Sturgis Motorcycle Rally is in full swing and one of the highlights of the event is the 2013 Legends Ride. It began yesterday in Deadwood, South Dakota and ended at the Legendary Buffalo Chip Campground where the Renewable Fuels Association (RFA) is a sponsor. This is the site where RFA will also be pumping free 93 octane E10 today and tomorrow for riders.
Chuck Zimmerman caught up with RFA's motorcycle expert and enthusiast Robert White just before he rode off with the tens of thousands of other riders for the Legends Ride. White said that this is the fifth year Ethanol, Fueled with Pride has sponsored the event. The event is limited to 200 riders, comprised of celebrities, motorcycle builders, riders and more and the event is designed to raise money for charity. This year White said all the funds raised will go to the Black Hills Special Olympics and part of the effort is to fund the vehicle they take to the events.
RFA, or "ethanol" is also involved in other events taking place at Sturgis including the art exhibit at the Buffalo Chip Campground, where motorcycles that can't be seen anywhere else are on display as well as a few other events. But White said beyond that, they are here for one main reason and that is to promote ethanol.
"This year we've had a lot of push back from the American Motorcyclists Association (AMA) and it's really focused around E15 and it has gotten really confusing to a lot of people. We want folks to use the right fuel; to know what type of fuel they can use, and in fact Tuesday, Wednesday and Thursday from 1-4 pm at the Buffalo Chip, we have 93 octane E10 that I has especially blended for the riders who can come and fill their tanks for free….And we'll show them that indeed E10 will work just fine."
You can listen to Chuck's interview with Robert here: Interview with Robert White