Concord Pacific Energy has entered into an agreement with Canadian Solar Solutions to acquire five utility-scale solar power plants totaling 49 MW and valued at more than U.S. $277 million. Under the agreement, the five utility-scale solar power plants, located in Chesterville, Pefferlaw, Springwater, Sudbury and Wyebridge, Ontario, Canada, are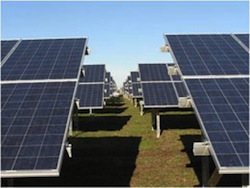 expected to start construction during 2013 and 2014 with commercial operation expected in 2014. Canadian Solar will provide turnkey engineering, procurement and construction ("EPC") services to complete the projects and will provide operations and maintenance services after completion. BowMont Capital and Advisory acted as financial advisor to Concord on the transaction.
"Concord Green Energy is always looking at a variety of investment opportunities in green energy production to fulfill our mission of creating sustainable communities," said Cliff McCracken, Senior Vice-President Concord Pacific. "Critical to our success in this area is finding and working with strong EPC partners who deliver high-quality projects that we can feel good about aligning with our brand. Canadian Solar has a reputation as a leading provider of solar energy solutions, making its projects attractive investments for our firm."
The five utility-scale solar power plants will power approximately 8,713 homes. In addition, the installations will include approximately 236,000 Canadian Solar CS6X high-performance modules. The CS6X modules have been formally tested and awarded international certifications. The solar farms are expected to in total create more than 500 new jobs during the development and construction phases of all five solar projects.
"Concord shares our vision of creating renewable clean energy to power our communities," added Dr. Shawn Qu, Chairman and Chief Executive Officer of Canadian Solar. "This agreement is a further example of Canadian Solar's successful transition from a premier PV module manufacturer to a PV total solution provider and the agreement with Concord is expected to contribute to our success. Through a careful and focused approach, we have built an attractive pipeline of sought-after solar power projects in Canada and the U.S., and are pursuing growth opportunities in other key markets. We look forward to successful cooperation with Concord."