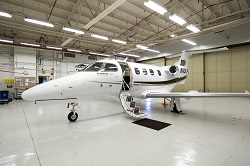 A jet from Purdue University will fly on a camelina-based biofuel at an international air show today. This story from the school says the Embraer Phenom 100 jet takes part in the Experimental Aircraft Association AirVenture in Oshkosh using the jet biofuel developed by the U.S. Air Force.
"Aviation biofuels, some of which are approved for use today, are of interest due to their potential to reduce carbon emissions and be derived from non-petroleum sources such as renewable biomass," said Denver Lopp, professor of aviation technology and co-director of Purdue's Air Transport Institute for Environmental Sustainability (Air TIES).
The demonstration flight will be one of the first in the United States in which a university-owned jet will be powered by biofuels, said Air TIES co-director David Stanley, and represents an important milestone toward the long-term vision of operating a green training fleet at Purdue University.
The biofuel used will be a Camelina-based HEFA (hydroprocessed esters and fatty acid), developed in partnership with the U.S. Air Force and the Air Force Research Lab. Results from the flight will be studied.