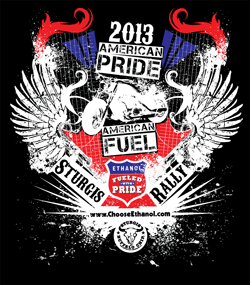 Ethanol will be on display in Sturgis, SD once again this year in front of a huge crowd at the Legendary Buffalo Chip Campground and the 73rd Annual Sturgis Motorcycle Rally. I'll be working with our good friends at the Renewable Fuels Association. They are partnered with the event and venue to promote the use of ethanol fuel to motorcycle enthusiasts. And having been there once, let me tell you, these are motorcycle enthusiasts!

RFA has produced promotional and educational materials, banners and merchandise including koozies and t-shirts (featured above) exclusively for this event that will be handed out at various locations during the week. The RFA's promotional trailer will be featured at The Crossroads, a gathering area for riders. The Sturgis Rally offers an opportunity for attendees to be educated on ethanol-blended fuel as it is often mischaracterized as a problem fuel for engines found in motorcycles.
New this year, campers at the Buffalo Chip will see more ethanol promotional efforts on the jumbotrons during the day and concerts at night as videos play 144 times each day. Banners will now also wrap the jumbotrons.
Returning this year is the opportunity for riders to fuel their motorcycles for free. The "Free Fuel Happy Hours" promotion will allow motorcyclists to fill their tank, free of charge, with 93 octane E10 (10 percent ethanol). This high octane fuel is not available in the area, and will be brought in specifically for this event. To fill up, riders must have a Buffalo Chip wristband and no fuel containers will be allowed. The Free Fuel Happy Hours will be on Tuesday, August 6, Wednesday, August 7 and Thursday, August 8 at The Crossroads at the Buffalo Chip from 1 p.m. to 4 p.m. each day.
"We're very pleased to have the Renewable Fuels Association at the Chip and offer our campers some education and free ethanol-blended fuel," said Rod Woodruff of the Sturgis Buffalo Chip. "The RFA will be here to address some of the loose talk we all hear about motorcycles and ethanol. Personally, I've used home-grown American ethanol-blended fuel in my motorcycle for years. Naturally, I'm looking forward to getting a free fill at the Buffalo Chip's CrossRoads during the RFA's 'Free Fuel Happy Hours' and, hopefully, even get some free 'Fueled with Pride' stuff."