Now this I find interesting. Yesterday I brought you the story about how Xcel Energy is taking aim at net metering, one of the most important tools to increase solar power adoption on homes. Yet the company is the top wind energy provider and has announced plans to expand its wind power production to "reduce customer costs, protect against rising and volatile fuel prices, and benefit the environment. Ironically, these are also benefits of solar power.
Yet I understand the dichotomy of support. For the most part, you can't put a wind turbine on the roof of your home, although there are some up and coming home wind turbine technologies that would face the same challenges if changes were made to net metering regulations. The problem is simple – utility companies don't make money on renewable energy projects that reduce bills or even provide enough power to sell excess energy to the grid. And the biggest threat to utilities' bottom lines today is solar energy.
Here is another reason why wind is "good" for utilities. With the significant growth of the industry, prices are competitive and then there is the federal Production Tax Credit that was renewed just in the nick of time at the end of last year.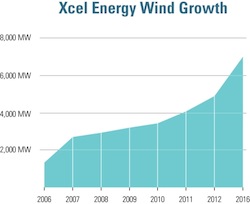 "Wind energy is a valuable, low-cost substitute for natural gas and other fuels right now," said Ben Fowke, chairman, president and CEO of Xcel Energy in a press statement detailing their intentions for wind energy. "These projects will lower customer costs by at least $800 million over their lives and will provide a valuable hedge to rising and volatile fuel prices for well into the future."
The company has submitted to state regulators throughout its service area proposals to purchase at least 1,500 megawatts of wind resources, a 30 percent increase in overall wind capacity. The wind power expansion, along with previous conservation, renewable energy and power plant improvement projects, according to the company, puts them on track to reduce its carbon emissions by 28 million tons, or more than 31 percent by 2020.
"These projects demonstrate how to do environmental leadership the right way," Fowke continued. "Both economic and environmental benefits can and should be achieved."
If the projects are approved, the company expects that more than 20 percent of its total energy mix will be supplied by wind. While this would be a great accomplishment that other utilities could and should follow, let's hope other utilities don't follow their lead on net metering – a move that could stall solar power adoption in the residential sector.