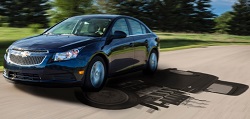 Chevy's Cruze is already a pretty clean burner, as it takes the green fuel biodiesel. Now with the 2014 Cruze Clean Turbo Diesel, the company says the advanced 2.0L engine with its variable-swirl intake system creates a "perfect storm" of air and fuel that helps enhance performance while reducing emissions.
"Variable swirl helps put the 'clean' in Cruze Clean Turbo Diesel. It increases the mixture-motion of air and fuel in low-speed, low-load driving, like when you're doing the commuter crawl to work every day," said Mike Siegrist, 2.0L turbo diesel assistant chief engineer. "It contributes to Cruze Diesel's great fuel economy, and helps give drivers the most torque for the least amount of fuel at the lowest emission and noise levels."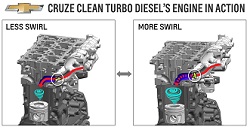 In Cruze's variable-swirl intake manifold, each cylinder has two separate intake ports, with one of them controlled by a valve. During variable swirl, each throttle valve varies how much it opens to create mixture-motion of air and fuel within each cylinder. General Motors' Powertrain team devoted countless hours to calibrating the actuator to precisely open and close the valves for optimal performance.
This technology and other innovations has made the Cruze the leader in its segment in highway mileage, seeing a whopping 46 miles per gallon out on the highway and range of more than 700 miles per tank – better than any non-hybrid or gasoline-powered passenger car vehicle in America.