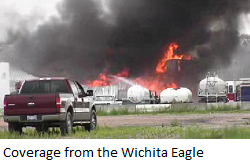 Fire destroyed a Kansas biodiesel plant, but thanks to quick work by firefighters on the scene, no injuries were reported. The Wichita Eagle reports the fire at the Green Energy Products plant in Sedgwick was particularly dangerous as fire crews from five jurisdictions faced possible burning biodiesel, corn oil and methanol.
Some cylinders and other vessels exploded initially, Sedgwick County Fire Chief Gary Curmode said.
"The first hour and a half was pretty dangerous," he said. There were no injuries.
The cause is unknown, but the state fire marshal is investigating.
Fire sent flames and black smoke high in to the air at one point and collapsed the metal building's roof.
Bernie Hoffman, vice president of WB Services — the parent company of Green Energy — said, "It started very small and burned very fast. It looks like it's going to be a complete loss."
About a dozen people were in the refinery when the fire broke out, but all escaped injury. Green Energy officials say the building is designed to contain a fire such as this.
A link to video of the fire is below: