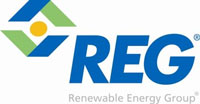 Things are looking up for biodiesel producer Renewable Energy Group. The Iowa-based company says it sold 69.2 million gallons of biodiesel during the second quarter this year, up 28 percent from the same time a year ago. Revenues also increased 42 percent from a year ago, hitting $387.1 million and an adjusted EBITDA of $41.6 million during the second quarter 2013.
"This was our strongest quarter ever for production and gallons sold," said Daniel J. Oh, President and Chief Executive Officer. "Market demand for biodiesel remained strong due, in part, to demand for biomass-based diesel RINs. REG's substantial revenue growth this quarter can also be attributed to manufacturing and operational improvement at our biorefineries and gallons produced via a tolling agreement."
REG officials also announced that the company's acquisition of a 30-million gallon per year nameplate capacity biodiesel plant from Soy Energy, LLC in Mason City, Iowa, was approved by Soy Energy unit holders, and they intend to repair the refinery and start cranking out soybean-based biodiesel soon.
REG also reported major multifeedstock upgrades at the Albert Lea, Minn., biorefinery and repairs, upgrades and start-up at the company's New Boston, Texas, biorefinery in the second quarter. Finally, construction on an Illinois River barge load-out at REG's Seneca, Ill., location is underway.