There was great news for the biofuels industry yesterday afternoon as Quad County Corn Processors, a biorefinery based in Galva, Iowa, broke ground on its Adding Cellulosic Ethanol (ACE) project. There were dozens from the local community on hand for the celebration and joining them was Renewable Fuels Association (RFA) President and CEO, Bob Dinneen.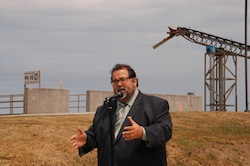 In speaking to the crowd gathered Dinneen said, "I applaud Quad County for proving that the first and second generations of ethanol are literally 'bolted' together. The future is now and the present is future. Cellulosic production will soon begin side-by-side with conventional ethanol. Delayne Johnson and his team are to be congratulated for their vision, determination, and innovation."
"The technology behind today's announcement is a direct result of Quad County Corn Processors Cooperative receiving a $4.25 million investment from USDA and the Department of Energy as part of the Biomass Research and Development Initiative. The R&D process spanned four years," he continued.
Dinneen added, "Milestones like the one we celebrate today demonstrate the U.S. ethanol industry's barrier-breaking innovation and unparalleled ability to create jobs, particularly in small cities and rural communities all across the country. Today is also further proof of the success of the Renewable Fuel Standard to spark innovation and investment, to stimulate job creation and economic development, and most important to produce millions of gallons of domestic renewable fuel in the name of energy independence."
Listen to Bob Dinneen's remarks here: RFA Bob Dinneen Congrats Quad County Corn Processors
Visit the Quad County Corn Processors "ACE" Groundbreaking photo album here.