Remember the story about the little train that could? Well, Quad County Corn Processors should be known as the "smallest plant that did the greatest things". Yesterday the ethanol plant broke ground on its bolt-on cellulosic ethanol technology coined Adding Cellulosic Ethanol "ACE" project. On hand for the event, along with a standing room only crowd, was Monte Shaw, executive Director of the Iowa Renewable Fuels Association (IRFA).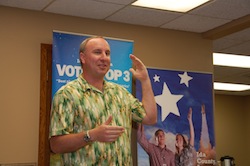 "It's exciting to see one of the smaller ethanol plants in Iowa adding some forward-looking technology," said Shaw during his remarks. "This new bolt-on process will greatly improve many efficiencies at this plant, ultimately reducing the amount of energy used to produce a gallon of ethanol. With other cellulosic projects underway in the state, Iowa is poised to lead the way in advanced ethanol production."
The "ACE" project will allow more products to be produced from the same kernel of corn – starched-based ethanol, fiber-based ethanol, distillers grains and corn oil. It was this ability that the plant demonstrates that inspired Shaw to wear his "corn" shirt, complements of the Renewable Fuels Association (RFA) several years ago.
Listen to Monte Shaw's remarks here: The Ethanol Plant That Could
Visit the Quad County Corn Processors "ACE" Groundbreaking photo album here.