ACE hailed "ACE" yesterday in Galva, Iowa during an event where Quad County Corn Processors broke ground on its Adding Cellulosic Ethanol "ACE" project a bolt-on technology innovation that will specialize in converting corn fiber into cellulosic ethanol. On hand for the groundbreaking ceremony was American Coalition for Ethanol (ACE) Executive Vice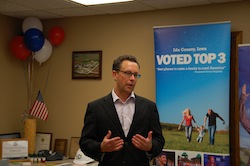 President Brian Jennings who noted that the cellulosic ethanol project is a great example of American ingenuity that was intended when the Renewable Fuel Standard (RFS) was enacted.
Jennings explained that the Environmental Protection Agency (EPA) has proposed to allow corn kernel fiber to qualify as a cellulosic biofuel feedstock under the RFS. Quad County's technology, called "Adding Cellulosic Ethanol," will convert corn kernel fiber into two million gallons of cellulosic ethanol, in addition to the 35 million gallons of corn starch ethanol already produced at the plant. It will improve the facility's yield by 6 percent, result in three times more corn oil, and produce a new high-protein low-fiber feed for livestock.
"Quad County Corn Processors is likely to be the first production facility on the planet to produce corn and cellulosic ethanol from the same feedstock at the same site," remarked Jennings. "Some of the biggest and most profitable companies in the world have tried to perfect and commercialize the process of converting cellulose to biofuel. But it should come as no surprise that the 35 employees and 353 farmer shareholders of Quad County Corn Processors will be one of the first to do it, because some of the sharpest minds of this industry are the innovative and hard working people in rural America. This shows how the Renewable Fuel Standard (RFS) is a catalyst for innovation."
Listen to Brian Jennings's remarks here: ACE Hails ACE Project
Visit the Quad County Corn Processors "ACE" Groundbreaking photo album here.