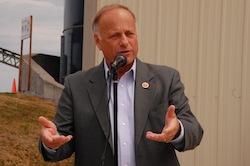 "I'm listening to the presentation that Delayne [Johnson] gave you and looking around at the faces of the people I know that have stepped up for years – you put your capital on the line, you put your ideas on the line, and you put your hard work on the line," began Congressman Steve King during his remarks at the celebration of the groundbreaking of a fast-forward innovative technology – Adding Cellulosic Ethanol "ACE" project. The technology adopted and developed by Quad County Corn Processors in Galva, Iowa will create advanced biofuels from the "corn slurry" created during the ethanol production process.
King noted that if you took a picture from a plane above the plant, you would see the most versatile of renewable energy locations. He also noted that years ago he remembered reading a study that said a plant could only get around 2.7 gallons of ethanol per bushel of corn but today- not even 3 gallons per bushel is the ceiling.
"That's a phenomenal thing to do," said King.
The Congressman also noted that here in Iowa, we know more about producing renewable energy than any other state in the world and we have the knowledge base here.
Listen to Congressman Steve King's remarks here: Versatile Renewable Energy
I had an opportunity to ask Congressman King if he felt the Renewable Fuel Standard (RFS) was at risk and he said "absolutely." But he said it is important for the industry to keep moving forward, and the "ACE" project demonstrates the innovation of the industry.
Listen to my interview on the RFS with Congressman Steve King here: Congressman King on the RFS
Visit the Quad County Corn Processors "ACE" Groundbreaking photo album here.