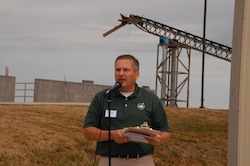 Quad County Corn Processors officially broke ground today in Galva, Iowa on its Adding Cellulosic Ethanol "ACE" project. Dozens of local community members joined ethanol industry reps and local politicians to celebrate the milestone that ethanol plant General Manager Delayne Johnson said was four years in the making in the R&D lab.
Delayne explained during his remarks, "With the addition of this new cellulosic process, we will stretch the production capacity of each and every corn kernel that passes through our plant. We will increase our ethanol yields by 6 percent, increase our corn oil extraction three times over, while also creating a higher protein livestock feed. This is value-added agriculture at its best."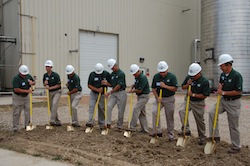 As a result of the new process, Johnson noted, the DDGs will be much more similar to a corn gluten meal. It will increase the protein content by about 40 percent.
"The greatest benefactors will be the Galva community, our shareholders, the ethanol industry, and the consumer," added Johnson. "Investing $8.5 million in our new process will add several jobs here at the plant, allow us to produce more ethanol from the same amount of corn, help us contribute to the nation's supply of cellulosic ethanol, and will continue to lower prices at the pump for consumers."
You can listen to Delayne Johnson's comments here: Delayne Johnson's Opening Remarks
You can view Sandy O'Brien's reading of Senator Tom Harkin's comments here or listen to her comments here: Senator Tom Harkin Remarks
You can listen to Delayne's reading of Iowa Ag Secretary Bill Northey's comments here: Iowa Ag Secy Bill Northey Remarks
Visit the Quad County Corn Processors "ACE" Groundbreaking photo album here.