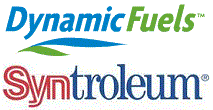 Someone is interested in the biodiesel making efforts of Syntroleum. The Tulsa-based company is in a joint venture with food giant Tyson Foods to make biodiesel from animal fats, and according to the Tulsa World, that has got the attention of some unnamed third parties looking to buy the company, assets or patents:
A news release from Tulsa-based Syntroleum indicated that the unsolicited queries prompted the company earlier this month to announce the hiring of Piper Jaffray & Co. to scout "strategic alternatives." Syntroleum said the current and long-term prospects of gas-to-liquids production and renewable fuels – both company objectives – were helpful to seeking those alternatives.
"Given the favorable commercial environment, the company believes that now is an appropriate time to broadly review its strategic alternatives with respect to its renewable and GTL intellectual property and its ownership and licensing interest in Dynamic Fuels."
Syntroleum's venture with Tyson includes Dynamic Fuels LLC, a refinery in Geismar, La., that began operating several years ago but is now on hold. No re-start for the plant has been given.