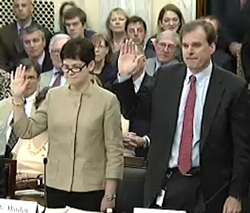 The Senate Agriculture, Nutrition and Forestry Committee this week unanimously approved the nominations of Krysta Harden to serve as deputy secretary of agriculture and Robert Bonnie to serve as under secretary for natural resources and the environment.
The Renewable Fuels Association (RFA) congratulated Harden on her confirmation. "Krysta Harden is the right person for the job," said Bob Dinneen, President and CEO of the RFA. "Her years as Chief of Staff at USDA, her work on Capitol Hill, and her vast understanding of value-added agriculture gleaned from years working for farmers and biofuels have all given her the knowledge and insight needed to fill this very important position as Deputy Secretary at USDA. Just as she has been confirmed in the past, we are eager to see her sweep through the approval process and look forward to her full confirmation by the U.S. Senate."
Harden has been nominated to succeed Kathleen Merrigan in the second-highest post at USDA Bonnie, while Bonnie, who has been a senior advisor to Agriculture Secretary Tom Vilsack, would succeed Harris Sherman in the post of natural resources under secretary.