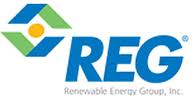 Biodiesel giant Renewable Energy Group (REG) will soon offer the green fuel in New York Harbor. The deal was struck for the International-Matex Tank Terminals (IMTT) in Bayonne, N.J., one of the world's largest petroleum trading hubs.
"The Northeast has an active biodiesel market and this terminal position allows us to provide more high quality REG-9000® biodiesel to better serve this growing market," said Gary Haer, REG Vice President, Sales and Marketing. "In conjunction with our five other terminal locations in New York and New Jersey, we will be able to provide a reliable and consistent supply of biodiesel to serve existing transportation fuel applications and barge business as well as the growing Bioheat® (heating oil blended with biodiesel) market in and around New York Harbor."
The New York State Legislature recently passed a B2 biodiesel requirement in home heating oil. Once signed into law by the Governor, it will require all heating oil for use in any building within Nassau, Rockland, Suffolk and Westchester counties to contain at least two percent biodiesel, effective October 1, 2014. On July 1, 2015, all heating oil sold for use in any building statewide will meet this standard. New York City already has a B2 biodiesel requirement for home heating oil in place.
REG officials say the deep water port able to cater to many ships and barges matches well with the company's marketing capabilities.