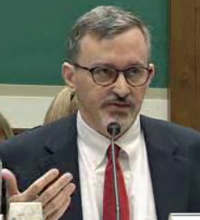 There may be some issues with the Renewable Fuel Standard that need to be addressed, but they could be done at the administrative level, rather than repealing the entire law or having Congress make changes. That according to a Senior Scientist with the Union of Concerned Scientists Clean Vehicles Program.
Dr. Jeremy Martin testified at a House Energy subcommittee hearing this week that they believe the RFS is an important policy tool and should remain in place and no legislative changes should be made to it. "Fortunately the RFS was designed with a great deal of flexibility," Dr. Martin said. "We're not moving forward as fast as we hoped to be in 2007 but the RFS is still pointing us in the right direction."
Martin noted that the real goal of the RFS is to move beyond corn-based ethanol into advanced and cellulosic biofuels, but that can only be achieved if the law remains in place. "The RFS is based on smart goals, not just more biofuels but better biofuels," he said, noting that repeal or legislative changes "would lock in place the status quo of 90% gasoline and 10% corn ethanol and chill investment in cellulosic biofuels just as the first commercial facilities are starting up."
Dr. Martin and other witnesses, including Bob Dinneen with the Renewable Fuels Association and Mike McAdams of the Advanced Biofuels Association, pointed out that several commercial advanced biofuels facilities are starting up or under construction now.
Listen to Martin's testimony here: Dr. Jeremy Martin, UCS