Raul Delga Delgadillo, a soon to be senior this fall at Bourns College of Engineering at the University of California, Riverside, has learned he will receive a $15,000 grant from the Environmental Protection Agency (EPA. The award is a result of his entry in the national sustainable design competition for his idea to capture energy from ocean currents.
Delgadillo will now build a small-scale turbine and buoy system and test it in a flow tank to determine the best way to maximize energy extraction. He expects the system will provide as much energy as an average wind turbine. The U.S. Department of Energy (DOE) believes wave and tidal energy, combined with other water-powered sources, could provide up to 15 percent of the country's electricity by 2030.
"The ocean remains an untapped frontier as a renewable energy source," Delgadillo said. "I'm hoping to change that."
The idea for the EPA P3: People, Prosperity and the Planet Student Design Competition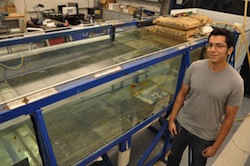 for Sustainability entry came out of project for the Sustainable Product Design course. Delgadillo's project proposes several innovative designs: the buoy, which will allow the device to move around until an optimum location is found, and the telescoping feature on the turbine, which allows it to vary in height and remain stationary if waves are present. Current proposals to harness energy from ocean currents require the turbine be anchored to the ocean floor using cables or rigid supports. This adds a significant cost, disrupts the environment because the ocean floor needs to excavated and limits the mobility of the turbine.
Delgadillo expects several challenges, including varying flow rates from ocean currents due to seasonal fluctuations; the fact that depth and contours of ocean floors can affect ocean currents; and avoiding harming marine life.
In the coming months, Delgadillo will perform experiments in a flow tank in the lab of Marco Princevac, an associate professor of mechanical engineering. He will then use the data he gathers to write a proposal for a second round of funding, for $90,000, from the EPA. He will find out in spring 2014 whether he receives that money, which would allow him to take the design to a real world application.