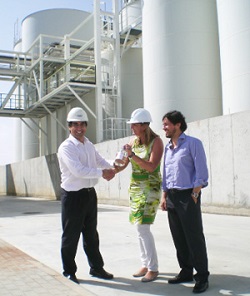 Good things can come to those who wait, and a Portuguese biodiesel maker really put that saying to the test. Enerfuel S.A. has opened it's 7.5 million gallon a year multifeedstock biodiesel plant in Sines, Portugal. Biodiesel Magazine reports the project has been some years on the making, first starting planning and construction in 2006 by Austria-based BDI-BioEnergy International AG. The brakes were put on the project in 2008, and last year, Enerfuel told BDI to finish it and make the plant ready for production – a process that cost in total about $17 million.
"Following the positive conclusion of the performance test, we are delighted to hand the plant over to a satisfied customer, particularly in view of the fact that it is also the first multifeedstock biodiesel plant to come into operation in Portugal, albeit after some delay," said Edgar Ahn, chief science officer and member of BDI's management board. "The active involvement of the Portuguese mineral oil company GALP in this project is confirmation to us that well-known fuel manufacturers have confidence in the high quality of our unique biodiesel production technology."
The refinery uses animal fats and used cooking oil its biodiesel feedstock.