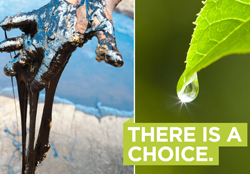 Fuels America coalition members today announced the launch of a new ad campaign with the theme of choice when it comes to our energy future. The campaign is targeted to policy makers in Washington DC and focused on supporting the Renewable Fuel Standard (RFS) which is under continued attack by the oil and food industries.
"We're talking about the fundamental choice America is facing when it comes to our fuel mix – do we want alternatives to oil or not?" asked Renewable Fuels Association president and CEO Bob Dinneen. "We're about choice, we're about market access."
Growth Energy CEO Tom Buis stressed the importance of energy supply diversity. "Just as you wouldn't put all of your eggs in one basket in any business, we shouldn't do it as a nation in our fuel choice," he said. "Oil has tried everything they can …and now this desperate attempt to change the (RFS) because they're afraid of competition."
Novozymes North America president Adam Monroe said the RFS has helped increase investment in advanced biofuels. "We've developed the technologies, we're building the plants, so why are the opponents attacking us as we're crossing the finish line?" he asked. "Like most disruptive technologies and alternatives, they're very serious threats to an existing monopoly."
Representatives of the renewable fuels industry, including Dinneen and Buis, will be among those taking part in a House subcommittee hearing this week about the RFS.
Listen to or download Fuels America press call: New Fuels America RFS Campaign
Watch one of the new TV ads below: