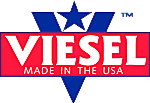 Florida-based Viesel Fuel, LLC has upgraded its enzymatic biodiesel plant using technology from Danish company Novozymes. This BioFuels Journal article says Viesel's green fuel is considered an approved biomass-based diesel under the Renewable Fuel Standard (RFS), meets ASTM International D6751 standards and is on track to be approved for BQ9000 quality assurance.
The Novozymes enzymatic process requires less energy than traditional biodiesel processes, thereby reducing greenhouse gas emissions at a higher rate.
"Novozymes' leadership in enzymatic processes will change the way the world produces biofuel and we at Viesel Fuel are very enthusiastic to be pioneering their technology to install a commercial scale biodiesel facility," stated Stuart Lamb, CEO of Viesel Fuel.
The article goes on to say that Novozymes' enzymatic process is also helping produce a higher value glycerin as a byproduct. Viesel Fuel is one of the first to use Novozymes technology on a commercial scale in North America.