AlsoEnergy, a company focused on renewable energy monitoring and portfolio management software, unveiled two new offerings at last week's Intersolar North America 2013. The two new products are PowerOperations, an operations management workflow module and PowerRes, a residential pacakge, are both designed and tailored for the financial community and developers of residential lease programs for the solar market.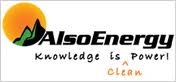 According to Robert Schaefer, CEO of AlsoEnergy, when integrated with PowerTrack – the company's advanced cloud-based software platform for monitoring renewable energy system performance – there are additional efficiencies realized. The portfolio of tools help automate key functions and processes associated with operating and maintaining a portfolio of solar photovoltaic fields.
"If a site shows that there is low production, the PowerTrack system sends this alert to the appropriate people and creates an associated task, thus enabling timely performance management that minimizes system downtime and lost production," explained Schaefer.
PowerRes, added Schaefer, is a low-cost, portfolio management and monitoring system for solar developers that is ideal for the residential marketplace. It incorporates an easy to install, cellular-based Itron Sentinel socket meter. When integrated with PowerTrack and PowerOperations, it allows developers to deploy and manage thousands of residential sites. Schaefer said PowerRes also includes operations and maintenance of distributed energy assets and can also track performance guarantees.
"Our renewable energy customers and conference attendees indicated that they want to go way beyond simple measuring," added Schaefer. "So we have successfully integrated management, operations and maintenance for residential, commercial and utility installations. At Intersolar North America we emphasized again how AlsoEnergy can lower the cost, improve the efficiency and improve the performance of renewable energy generation for developers, operators, financiers and EPCs."