Since 2006, 158 new biodiesel retail pumps and 48 terminal locations have opened around the state. The growth has been helped along by state grants managed through the Iowa Renewable Fuels Infrastructure Board. Iowa has several progressive biodiesel policies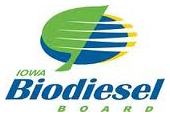 on the books, including this investment in the infrastructure needed for statewide distribution of cleaner burning biofuels.
"Iowa produces the most biodiesel of any state, yet surveys show 47 percent of diesel vehicle owners here do not know where to find it," said Randy Olson, executive director of the Iowa Biodiesel Board (IBB). "This additional infrastructure helps biodiesel continue to become fully integrated into Iowa's fuel supply."
The Iowa Renewable Fuels Infrastructure Program assists retail operators of motor fuel dispensing sites or fueling stations in the conversion of their equipment to allow for the expanded use of renewable fuels in Iowa. The 27 biodiesel projects in Fiscal Year 2013, which just ended, received funding totaling about $1.2 million.
Some examples of funded projects include Sapp Bros. Travel Center in Council Bluffs, STAR Energy (a division of Growmark) in Fort Dodge, and a Kum-and-Go in Ankeny, the hometown of IBB and the Iowa Soybean Association. Diamond Oil Co. used a $100,000 grant to open a heated terminal facility in Des Moines, which helps streamline the distribution process by offering pre-blended biodiesel to smaller distributors year-round.
"This program is good for Iowa because it empowers more consumers to use their own state's products rather than importing our energy," said Harold J. Hommes, program administrator with the Iowa Department of Agriculture & Land Stewardship. "We don't have refineries or fossil fuels here, so money leaves the state to pay for those energy products. But if we produce those in a renewable manner here, we're helping Iowa farmers and fuel producers, and then those dollars are multiplied throughout Iowa."
The grants require matching funds. Petroleum distributors must commit to providing biodiesel blends for a set number years (usually five). Agricultural cooperatives are also eligible for the grants. This increases on-farm availability, a priority of IBB.