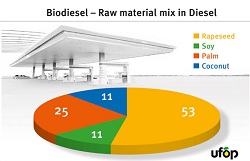 A study from a group in Germany says sustainability certification systems have opened up market access for vegetable oils from countries outside the European Union. The study from the Union zur Förderung von Oel- und Proteinpflanzen e.V. (UFOP) surveyed 60 filling stations across Germany and found that rapeseed oil remains the most important raw material source for the production of the green fuel in that country, making up more than half (53 percent) of the feedstock for biodiesel there. Palm oil was next at 25 percent, with coconut and soybean oil each contributing 11 percent.
In the years 2010 and 2011, German agriculture benefitted from the fact that practically only certified rapeseed from domestic production was available after the immediate national implementation of the Renewable Energies Directive. The raw material mix now determined reveals that the certification systems approved by the EU Commission have now also been introduced in countries outside the EU such as Argentina, Brazil as well as Indonesia and Malaysia. In other words, the supply of sustainably certified raw materials for biofuel production has meanwhile become globalised, according to UFOP.
It is a stipulation of the international laws that market access may not be denied if the specified ground rules are complied with. Nevertheless, the UFOP has serious misgivings and believes that closer attention must be paid in respect to the quality of the national implementation and the certification introduced in the sense of fair competition, but also nature and environmental protection locally.
UFOP went on to urge the the EU Commission to maintain its strict rules for the certification of the origin of biodiesel feedstocks.