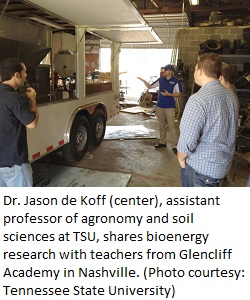 Researchers at Tennessee State University hit the road this week with a mobile demonstration lab to convince more farmers to brew their own biodiesel. This school news release says unit will also be on display at the university's Small Farm Expo this Thursday, July 18th.
The eye-catching mobile lab is the showpiece of the University's pioneering alternative fuels program. Funded with $250,000 from the USDA Capacity Building Grant program, the mobile lab takes biodiesel fuel education right to working farmers, and has all the equipment necessary for producing the alternate fuel.
"This region has a modest oil seed production rate by area farmers," said Dr. Jason de Koff, assistant professor of agronomy and soil sciences in the College of Agriculture, Human and Natural Sciences. "We want to be able to show them something they might not have thought about. With as much oil seed production taking place in the state, we want to explain the production of biodiesel fuel from vegetable oil is a viable process that can replace traditional fuel used in existing diesel engines."
According to de Koff, a typical farm uses around two to six gallons of diesel fuel per acre every year. Depending on the oilseed crop and yield, a farmer could devote one to 15 percent of farm acreage to producing oilseed crops strictly for biodiesel fuel production.
"It is possible they could become totally self-sufficient in diesel fuel use," added de Koff. "As a clean-burning, renewable energy source, biodiesel fuel offers a number of built-in advantages that regular diesel fuels simply can't match."
The mobile demonstration unit has all that's needed to produce biodiesel, including an oil seed press and biodiesel processor. Supporters hope to show how easy the process can be not only to farmers but to area lawmakers, 4H clubs and schools.