Summer driving season is nearing its peak and as events continue to unfold in Egypt, gas prices are again expected to spike. To learn more about the reasons behind rising fuel prices, Fuels America hosted a media briefing with several energy experts to provide a panoramic view of the real drivers behind volatile gas prices.
Speakers discussed how renewable fuel drives gas prices down and provides the only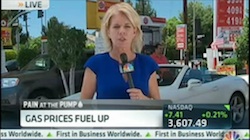 market competition to oil; how oil markets are global in nature and are affected by both domestic and international forces; and common myths around the relationship between gas prices and Renewable Identification Numbers (RINs).
Energy experts included Geoff Cooper, VP of Research and Analysis, Renewable Fuels Association (RFA); Anne Korin, Co-director of the Institute for the Analysis of Global Security; Anna Rath, CEO, NexSteppe; and Bruce Vollan, Owner, Vollan Oil – a family-owned gas station in South Dakota that provides choice at the pump for customers by selling E15, E85, and other fuels.
Earlier in the day, the American Petroleum Institute (API) launched a new TV and print campaign to disparage biofuel use synonymously as gas prices took a sharp rise with the national average of 14 cents per gallon in one week. In response, Fuels America sent out a statement saying, "API's new ad campaign is another example of how out of touch the oil industry is with real Americans. But using stock images of blue collar workers to demonize our domestic renewable fuel industry, not to mention the nation's auto mechanics, is a bizarre new low."
"Furthermore, API's attempt to make E15 the nexus of the debate is a miscalculation. E15 is the most tested renewable fuel in history and to suggest otherwise ignores a wealth of facts," the statement continued. "But, here's some real fuel for thought: while Big Oil wants to maintain the status quo – and their insanely high profits – renewable fuel is providing consumers with choice and savings at the pump."
Listen to the full media briefing here: Gas Prices Predicated to Spike