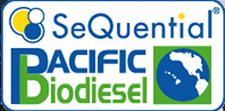 A biodiesel maker in the Pacific Northwest is advocating for new strategies to distribute the green fuel. In a piece written for Biodiesel Magazine, Director of Sales for SeQuential-Pacific Biodiesel, Gavin Carpenter, made the case for a system that works with wholesalers and retailers alike:
Biodiesel distribution has largely followed the same model as petroleum-based fuels. Manufacturers partner with third-party distribution companies, providing wholesale product that is then bought by retailers and other end users. This model is still valuable and widely used today. It's efficient and enables high-volume sales, but a drawback to this model is that it can limit or even remove the manufacturer from interactions with retailers…
Recognizing that wholesalers were invaluable to our ability to move product, we decided to redefine our partnerships to maintain wholesaler relationships while offering greater direct access to retailers. Instead of relying on the distributor to order fuel, SeQuential-Pacific approached retailers directly, highlighting the benefits of offering biodiesel at their stations. Interested retailers would then purchase SeQuential-Pacific product through one of our partner distributors. This simple shift opened up a host of new retail sales opportunities for SeQuential-Pacific while also enabling us to provide personalized topnotch customer service, and the ability to quickly address any concerns coming from retailers before larger issues arise.
Carpenter went on to say they have also worked to brand pumps with their B99 fuel, educating customers and taking ownership for what the retailers were selling. In addition, those same pumps would automatically switch to a B50 blend in the colder winter months.
He concluded by pointing out the dividends this strategy has paid for SeQuential-Pacific Biodiesel, producing more than 6 million gallons of fuel each year and a retail partner network of more than 30 stations, and Carpenter sees it as a model other biodiesel makers could adopt.