American Petroleum Institute (API) has launched a new campaign featuring print and TV ads taking aim at E15 and the Renewable Fuel Standard (RFS). The ethanol industry responded and Bob Dinneen, President and CEO of the Renewable Fuels Association said that Big Oil's latest campaign is nothing more than an oil slick of misleading scare tactics.
"What does it say about an industry so desperate to protect its monopoly that it distorts reality in a feeble effort to hoodwink consumers?" questioned Dinneen. "API is intentionally confusing a debate about E15 with the RFS, an important policy that is reducing our dependence on imported oil while saving consumers money at the pump. E15 is not mandated. E15 is a cost-saving, environment-protecting, oil addiction-breaking fuel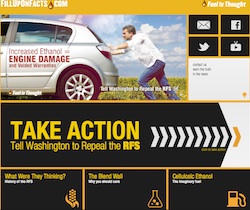 alternative. E15 is a choice and American consumers are in the driver's seat. Give them an option and let them decide. That's the way competitive markets work."
Dinneen along with Tom Buis, CEO of Growth Energy both noted that E15 is the most tested fuel in American history, but the oil industry will not tell you that. Big Oil will also not tell you that 40 million miles have been driven on it, and there have been no reports of engine trouble.
"This is nothing more than a diversion from what is really on motorist's minds. Notice how this 'new campaign' comes on the heels of a gas price increase of 3.2 cents last Friday, the largest one day spike in five months, and predictions from AAA of another expected increase of .10 to .15 cents in the coming days," said Buis.
The Department of Energy (DOE) tested over 86 vehicles on a lifecycle test, resulting in over six million miles with no negative outcomes. Even the DOE has said that API's studies are not based on unbiased science. After failing on the legal and regulatory fronts, Buis notes that Big Oil will do "whatever it takes to keep us addicted to the failed status quo, so they can continue to line their pockets at the expense of American consumers."
Buis concluded, "Looks like API, once again, will do anything to drive attention away from record profits and skyrocketing gas prices by using junk science in an attempt to prevent a choice and savings at the pump for American consumers."