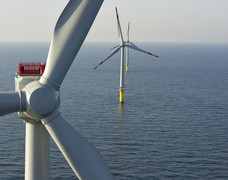 The amount of new offshore wind energy installed in Europe during the first half of this year has doubled compared to a year ago, but a lack of future orders is troubling wind energy advocates there. The European Wind Energy Association (EWEA) says 277 new offshore wind turbines, totalling 1,045 megawatts (MW), were connected to the grid during the first six months of 2013, but the group also points to issues with future projects:
"Offshore wind power installations were significantly higher than in the first six months of last year" said Justin Wilkes, Director of Policy at the European Wind Energy Association (EWEA). "But financing of new projects has slowed down with only one project reaching financial close so far this year. This, together with a lack of orders being placed for offshore wind turbines, substructures and components, reflects the regulatory uncertainty in key offshore markets including Germany and the UK. It highlights the significant challenges faced by the offshore wind sector.
EWEA says governments in Europe need to provide a stable regulatory framework with a binding renewable target for 2030.
Nearly 60 offshore wind farms off European coasts now have a capacity at 6,040 MW.