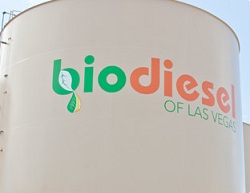 Biodiesel of Las Vegas becomes BQ-9000 certified by the National Biodiesel Board. Biodiesel Magazine says the 4 million gallon per year refinery is the first and only biodiesel producer in Nevada to receive this certification and joins a select group of 46 other biodiesel producers in the U.S.
"We are pleased to welcome Biodiesel of Las Vegas into the BQ-9000 program," said National Biodiesel Accreditation Commission Chairman Scott Fenwick. "Their efforts to become BQ-9000-certified show their continued commitment to fuel quality and will help ensure they are delivering the highest quality fuel to their customers."
According to the NBB, to receive accreditation, companies must pass rigorous review and inspection of their quality control process by an independent auditor to ensure the program is fully implemented.
"Becoming BQ-9000-certified shows our industry that we are committed to producing quality fuel for our community," said Brandon Buff, vice president of Biodiesel of Las Vegas. "This certification also reinforced to our team what we have accomplished and becomes a milestone in our roadmap for the future."
The BQ-9000 accreditation includes the ASTM D6751 quality standard for biodiesel, as well as considering a system of storage, sampling, testing, blending, shipping, distribution, and fuel management practices.