President Obama made his first official trip to Africa last week and while there announced his Power Africa initiative, an effort to bring reliable, safe and affordable energy to the country. One Sunrise, Florida-based company has already been working to provide Africans innovative energy solutions: SKYei – formerly SKY Energy International.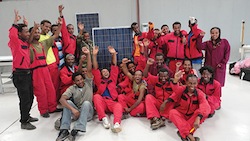 The company has recently completely a U.S. $5 million solar panel manufacturing facility in Addis Ababa, Ethiopia. At full manufacturing capacity, the assembly plant, a collaboration with a local government-owned company, will ramp up to three shifts turning out panels capable of generating 20 megawatts annually. SKYei is also developing hydropower and is in the early stages of a U.S. $300 million project in Tanzania. The project is expected to provide a significant source of electricity for the region.
Doing business in Africa is challenging, but doable, according to SKYei CEO Roland "Mack" McLean, because all equipment, materials and supplies must also be shipped to the remote regions. "Simply put, Africa is a long way away and it's just not easy to get there," he said, noting it can take as long as 51 hours and up to five flights to reach the remote regions where SKYei is working. "That said, the payoff, in terms of ROI [return on investment] for investors, is great and the impact we can have on the lives of the communities where we're working is even greater."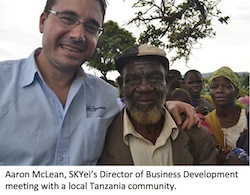 Aaron McLean, SKYei Director of Business Development, is currently on the ground in Tanzania. "Diligence and organization of human resources, both in-country and out, are essential," he said. "The ability to provide power to regions in dire need far outweighs the challenges we face."
In addition to a team of engineers and technicians, SKYei also employs a Director of Corporate Giving, Dr. Jerry Huson, to ensure that local residents benefit most from the development, a cornerstone of SKYei's business philosophy. In addition, the company plans to develop potable water resources for locals living near the Tanzania project.