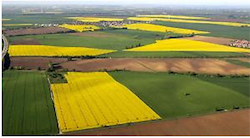 This week the European Parliament Environment Committee voted for the European Union (EU) to cap the amount of food used as biofuels at 5.5 percent. Groups opposed to the measure want to see an end to biofuels created from "food" crops. The EU's Renewable Energy Directive requires EU member states to use 10 percent of the road transport fuel from renewable sources by 2020. Historically, the mandate has been met with feedstocks also used to produce food (corn, wheat, soy).
The first generation cap on "agri-fuels" is an attempt to help the country transition to advanced biofuels and reduce greenhouse gas emissions resulting from indirect land use change (ILUC).
"I nonetheless think that the industry must be given time to adapt, and I shall propose a compromise to this end in plenary session," said rapporteur Corinne Lepage (ALDE, FR) after the vote. Her first-reading report was approved by 43 votes to 26, with one abstention.
"While today's vote for a 5.5 percent cap is better than no cap, it still means that people in the United Kingdom and Europe will put food in their cars that could have fed tens of millions of people. This is not acceptable at a time when 1 in 8 people go hungry globally," said Anders Dahlbeck, Head of Policy at ActionAid UK.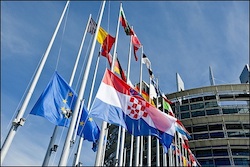 The EU is revising its biofuels policies and this week MEPs on the Environment committee voted on proposed amendments that will not have to be accepted or rejected by the European Parliament's plenary session in Strasbourg in September. After that, the European Parliament will have to negotiate with the European Council (made up of EU governments) before a final revision to biofuels policies can be implemented.
"Members of the European Parliament cannot turn their backs on the world's poor by supporting business-as-usual for the biofuels industry," continued Dahlbeck. "Biofuels policies were introduced with the best of intentions, but they were misguided. It is now time to reform our biofuels policies and to stop them fueling hunger."
Dahlbeck concluded, "British MEPs and the UK government, should use current negotiations in Brussels to call for an end to expensive food-based biofuels that cause food price rises. Instead we should  invest in renewable energies that genuinely reduce greenhouse gas emissions while not causing hunger."