The Center for the New Energy Economy at Colorado State University has released its most recent white paper, "State Renewable Portfolio Standards Hold Steady or Expand in 2013 Session," as part of its series on legislative policy trends in advanced Energy. The white paper was based on data analyzed in the AEL Tracker dataset.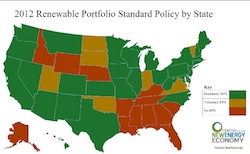 According to the report, at the beginning of 2013, there was a great deal of public discourse around efforts to roll back state renewable energy generation standards. These efforts appear to have failed thus far in the 2013 legislative session. While more than 30 states voted on or considered legislation this session to change their Renewable Portfolio Standards (RPS), only eight have enacted modifications or increases to existing policies and no state has rolled back an existing standard.
The Center for the New Energy Economy's Advanced Energy Legislation Tracker database contains a comprehensive inventory of over 2,300 state advanced energy bills including the 121 bills introduced this session that would increase, modify or decrease RPS policies. Of those 121 introduced bills, 16 have been enacted to date, none of which would repeal or delay RPS statutory requirements or generation deadlines.
"Despite attempts to roll back state renewable energy policies this year, the net impact thus far in the 2013 session is that the U.S. renewable energy market is stronger, particularly in the three states that increased their RPS standards – Nevada, Colorado and Minnesota," said Bill Ritter, Jr. Director of the Center. "States are clearly defending their RPS policies and in some cases, increasing them," Ritter added.