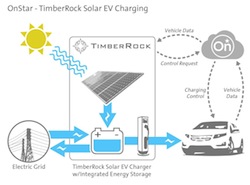 OnStar is partnering with TimberRock Energy Solutions to develop advanced EV solar charging technologies. TimberRock uses aggregation software and solar charging canopies with integrated storage to manage the flow of solar power to the electric grid. The project will be the first "real-world" use of OnStar's Smart Grid solutions.
As part of the project, TimberRock will monitor the output of its solar charging stations, how much stored energy is available and when it can sell energy back to the grid to help meet peak demand. To help balance this system, TimberRock will then manage its fleet of four Chevrolet Volts to help regulate energy flow. This practice is known as Market-Based Regulation.
"The future of electric vehicle charging will be a marriage of renewable energy and battery storage as we look to address the intermittency of renewable solar and wind power," said Rob Threlkeld, General Motors' manager of renewable energy. "This project supports GM's goal of using all factors of the charging equation: electric vehicles, solar power, and battery storage."
The ability to control the Volts' charging using software algorithms is made possible by an OnStar solution called Demand Response, accessed through OnStar's Smart Grid application programming interface, or APIs. OnStar has given TimberRock access to this solution so that it can start, stop and modulate the amount of charge going to a particular Volt in coordination with energy need. TimberRock's software determines when the EVs can be used to support the grid.
"We have given TimberRock the ability to use Demand Response to efficiently control the charging of their fleet of Volts," explained Paul Pebbles, GM global manager, Smart Grid and EV Services who envisions a day where, if consumers choose, could receive financial benefit for allowing a company to manage the charging of their EV. "This is the first time a demonstration of Demand Response is being taken beyond lab or university studies."
"Down the line, this could really incentivize solar charging for EV drivers," continued Pebbles. "This opens the door for solutions like this to be brought to the public, which could increase the benefits of owning an electric vehicle. Whether it's charging with solar or wind energy, or even standard electricity, consumers will start to see that they have options when it comes to managing their EVs."
In addition to benefiting consumers and companies like TimberRock, solutions like Demand Response could also help utilities manage the electric grid load.