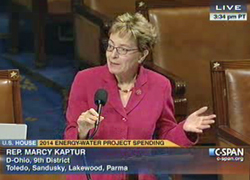 A marathon session in the U.S. House concluded after Congress wrangled over several renewable energy measures and passed a $30 billion energy and water programs bill. Environment & Energy News reports that House Republicans, already making substantial cuts to some clean energy programs in the bill, have blocked Democrats' attempts to restore those cuts. Despite those efforts, the overall bill has passed mostly along party lines, 227-198, and will be sent to the Senate, where it faces an uphill battle due to the $4 billion gap between it and the Senate's version, as well as President Obama's threatened veto of the House numbers.
The bill would combine the Office of Energy Efficiency and Renewable Energy and the Office of Electricity Delivery and Energy Reliability, while cutting their combined budget by more than half. And the Advanced Research Projects Agency-Energy would lose more than 80 percent of its budget under the House bill.
Environment & Energy News
One example of the debate that went on included Rep. Marcy Kaptur, a Democrat from Ohio, rising to oppose an amendment that would have slashed federal money for wind energy projects.
"Overall, America's wind energy capacity grew by 28 percent, but the recent success of wind energy in our country doesn't mean we should stop investing in it. In fact, we need to do more," Kaptur said. She also pointed out that we cannot afford to let China get ahead in clean wind energy, that is good for the environment and has supported 80,000 jobs last year in this nation. "At a time when the global clean energy market is getting more competitive the United States is starting to lag behind. In 2012, China's level of clean energy financing surpassed our country's for the first time."
She went on to say Kentucky GOP Rep. Ed Whitfield's amendment to eliminate all Department of Energy wind energy programs is the wrong approach and not consistent with an "all-of-the-above" energy approach. Kaptur also pointed out that the U.S. provides more subsidies to fossil fuels than any other country in the world to the tune of more than $500 BILLION.
The amendment was overwhelmingly defeated.
Listen to Kaptur's opposition to the amendment here: Rep. Marcy Kaptur opposition to DOE wind energy funding cuts
President Obama has already to threaten the House bill, and there are $4 billion in difference with a similar bill in the Senate.
Earlier amendments of the energy bill that failed included:
[Californian GOP Congressman Tom] McClintock's attempt to cut a total of $1.5 billion from DOE's Renewable Energy, Energy Reliability and Efficiency; Nuclear Energy; and Fossil Energy Research and Development accounts failed 115-300.
And two Broun amendments calling for less drastic cuts also were voted down. A Broun amendment to cut $9.8 million from the combined efficiency, renewable and reliability account failed 153-257, while another amendment to cut $4.75 million from the same account failed 158-256.
The House did approve some GOP amendments to shift funds.
Rep. Kristi Noem (R-S.D.) succeeded in shifting $25 million to a rural water program, while reducing spending on efficiency, renewables and reliability and DOE administration by $15 million each. And Rep. Doc Hastings (R-Wash.) managed to increase spending on nuclear weapons cleanup activities — such as those ongoing at the Hanford site in his state — by $22.5 million, while reducing Renewable Energy, Energy Reliability and Efficiency by $9.5 million and Departmental Administration by $20 million. Both amendments passed on voice votes.