Portuguese energy company EDP is adding a compressed natural gas (CNG) refueling station to fuel it's fleet with natural gas. In addition, the company plans on purchasing 20 natural gas vehicles. Ballast Nedam IPM has been hired to install the CNG station in Porto, Portugal and the CNG station is expected to be online by August 2013.
Ballast Nedam has designed a customized fast-fill refueling installation for CNG. The rapid and complete handling of the vehicles will require the compressor installation to be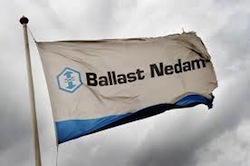 equipped with a storage facility, and there will also be a specially designed dispenser with fast-fill connector. A release and recording system will also be installed, allowing only authorized EDP users to operate the installation, and supporting the periodic remote reading of volume and consumption information by the company.
According to Ballast Nedam, the market for natural gas as a vehicle fuel is growing in Portugal. There are only a few natural gas refueling stations in Portugal currently, but increasing awareness of the environmental and financial benefits of running on natural gas is creating expectations of a sharp increase in the number of stations over the next few years.
Ballast Nedam has selected a Portuguese partner for the local work. ERI Engenharia S.A. will take responsibility for the permit acquisition, civil engineering and technical installation on the project site. After commissioning, the company will continue to handle the service and maintenance for the station.