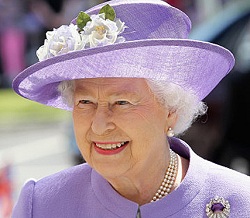 One of our favorite renewable energy sources will have to practice its curtsy, as biodiesel is on the guest list for the Queen of England's coronation 60th anniversary. Biodiesel Magazine reports UK-based Green Fuels, a pioneer in sustainable biofuel and biofuel technology manufacturer, will be part of the July 11-14 event:
The Coronation Festival will celebrate innovation, excellence and industry showcasing the broad range of fine brands, including Green Fuels, which have earned the recognition of a Royal Warrant over the years.
Royal Warrants are a mark of recognition to individuals or companies who have supplied goods or services for at least five years to the Households of The Queen, The Duke of Edinburgh or The Prince of Wales Warrants have always been regarded as hallmarks of quality, excellence and service.
Green Fuels was awarded its Royal Warrant in January and its prestigious Royal appointment now sees Green Fuels join more than 200 Royal Warrant Holders at this unique event.
The Royal Train and other vehicles in the royal fleet in the use biodiesel made by Green Fuels equipment. Company officials say the coronation festival will be a great showcase for their technology.
Seeing how my invitation must have been lost in the mail, we'll just have to have rely on Green Fuels to give our best to the Queen. That's ok… my curtsy is not that good.