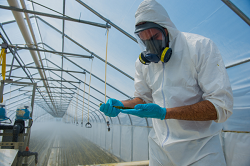 An Iowa congressman and the state's ag secretary, which is fed from the CO2 of the nearby ethanol plant. KMA in Shenandoah says Iowa Congressman Tom Latham and Iowa Secretary of Agriculture Bill Northey toured the Bio Process Algae plant, part of the Green Plains Renewable Energy facility:
Congressman Latham says the Bio Process Algae plant does not live up to what most people think of when they think of algae.
"When people typically think of Algae, they maybe think of scum on water. This is so far removed from that. What they are doing here is remarkable. The potential this has for the future is just amazing. It is incredible what they are doing here and while it is still under development, I think they are going to be successful."
Northey says the plant continues to impress him. "It's amazing to see. I have been here a couple of times before. I've seen different stages that just continues to grow. With the Department of Energy grant, they are entering a new phase and to see the young people here finding new ways to use technology, I am very impressed."
The adjoining ethanol plant pumps out 65 million gallons a year of the green fuel and has been in operation since 2005. The algae plant was added in 2009.