SolarCity has begun a project to provide solar electricity to more than 500 military homes at Soaring Heights Communities, a lend-lease community, on Holloman Air Force Base in Otero County, New Mexico. The project, expected to provide 3.4 megawatts of generation capacity, is the latest to be announced under SolarCity's SolarStrong initiative. The project is also part of Lend Lease's commitment to President Obama's Better Building's Challenge, which is expected to result in Lend Lease reducing energy consumption by minimum 20 percent within the next two–five years for its entire military housing portfolio.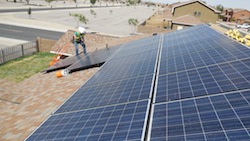 The SolarStrong project includes a five-year plan to provide solar power to up to 120,000 military homes.
"The children who grow up in these neighborhoods will have a glimpse of the future before any of us—neighborhoods in which the majority of roofs have solar panels on them," said Aaron Gillmore, SolarCity's vice president of solar development. "It's the foresight and strategic know-how of the Department of Defense that is making this future a reality today."
In addition to the projects announced today, SolarStrong projects are underway at Fort Bliss in Texas, Joint Base Pearl Harbor-Hickam in Hawaii, Marine Corps Base Hawaii, Navy Region Hawaii, and Tierra Vista Communities – a Lend Lease community with locations on Los Angeles Air Force Base and Peterson and Schriever Air Force Bases in Colorado. A 900-home project at Soaring Heights Communities on Davis-Monthan Air Force Base in Arizona, announced in 2009, provided the initial blueprint for SolarStrong.
These projects will contribute to a goal set in 2007 by the Department of Defense, currently the largest energy consumer in the United States, to have 25 percent of its energy requirements met by renewable energy by 2025. As of early 2013, there are more than 130 megawatts (MW) of solar photovoltaic (PV) energy systems powering military bases, according to a May 2013 report by the Solar Energy Industries Association.