During the Pikes Peak International Hill Climb held each year in Colorado Springs, Colorado, Lightning Motorcycles finished first in the Exhibition Powersports division, outperforming all its competitors, including those motorcycles running on gas. In addition, the Lightning SuperBike was powered by solar energy.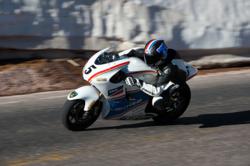 The solar-powered Lightning SuperBike—under rider Carlin Dunne was the top qualifier on June 28 and posted a time just over 10 minutes (10:00.694). The challenging 12.42-mile, fully-paved course includes 156 turns ending at the 14,110-foot summit of Pikes Peak.
"We are incredibly gratified with the performance by Carlin," said Richard Hatfield, founder and CEO of Lightning Motorcycles. "The Lightning team worked around the clock to ensure that we provided the best possible bike for the race. We set this as a goal more than four years ago after our first North American road-racing event. Sunday, we achieved our goal. This accomplishment is a big step forward for Lightning, and we believe this is a giant leap forward for public acceptance of clean, renewable energy-based transportation."
The Lightning SuperBike was powered with solar energy provided by SMA America, which manufactures solar inverters. This energy, channeled through a mobile charging station, fueled the motorcycle's onboard battery pack, providing the vehicle with enough power to win the race and beat the previous electric motorcycle record.
"The merger of solar power and electric vehicles is exciting to witness and we are thrilled with the success of the impressive SuperBike," said Henry Dziuba, president and general manager of SMA America. "The win at Pikes Peak shows that superior, world-class performance can be achieved today with clean technologies."
Last year, the Lightning SuperBike set land speed records for electric motorcycles at El Mirage Lake bed in the Mojave Desert in San Bernardino, Calif. and at the Bonneville Speedway near Wendover, Utah.