Ethanol Safety Seminars, hosted by the Renewable Fuels Association (RFA), are heading to California this month, as part of a Federal Railroad Administration (FRA) grant. All seminars are free and feature sessions from 9 a.m. to 2 p.m. Lunch will be provided. The seminars are designed for individuals who respond to ethanol-related emergencies as well as those who work at fixed-facilities and transport fuel.
The goal of these seminars is for attendees to gain full ethanol emergency response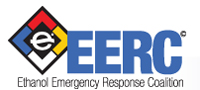 training experience that they can put to use immediately in the field as well as pass along to other first response teams. A majority of this training is based on the "Complete Training Guide to Ethanol Emergency Response," a training package created by the Ethanol Emergency Response Coalition (EERC) that has been distributed throughout the United States and to several countries worldwide. Seminar dates:
July 8 & 9 at the California Fire & Rescue Training Authority in Sacramento, co-hosted by Central California Traction.
July 10 & 11 at the Elihu M. Harris State of California office building in Oakland, co-hosted by Richmond Pacific Railroad.
July 12 & 13 at the Modesto Junior College Fire Training Center in Modesto, co-hosted by Modesto & Empire Traction Company.
July 15 & 16 at the Olive Drive Fire Training Facility in Bakersfield, co-hosted by San Joaquin Valley Railroad.
July 17 & 18 at the Del Valle Regional Training Center in Castaic, co-hosted by Filmore & Western Railroad and Pacific Harbor Line.
July 19 & 20 at the UP Intermodal Container Transfer Facility in Long Beach, co-hosted by Filmore & Western Railroad and Pacific Harbor Line.
July 22 & 23 in the auditorium of the War Memorial Building in San Diego, co-hosted by San Diego & Imperial Valley Railroad.
Additional sponsors for the tour include Kinder Morgan and Pacific Ethanol.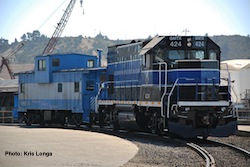 "Ethanol shipments in railcars are the most effective and safe way of moving the product," said Barbara O'Neill, director of marketing for Richmond Pacific Railroad. "It is the goal of all railroads to handle ethanol in a safe manner but there are situations that arise and necessitate the aid of first responders. The Safety Seminars provide the essential training that will enable first responders to handle any emergency situation during the transportation of ethanol."
Attendees will receive in-depth information on proper training techniques that first responders and hazmat personnel need to effectively respond to an ethanol-related emergency. While primarily targeting first responders, hazmat teams, safety managers, and local emergency planning committees, it is also open to the general public.