During a news conference held in Las Vegas, Nevada featuring U.S. Senator Harry Reid and Secretary of the Interior Sally Jewell in advance for the National Clean Energy Summit 6.0 on August 13, 2013 at Mandalay Bay, MGM Resorts announced plans for a major solar energy system. The 6.2 megawatt installation, planned for the Mandalay Bay Resort Convention Center, will be MGM Resort's first commercial solar project and will generate enough energy to power nearly 1,000 homes.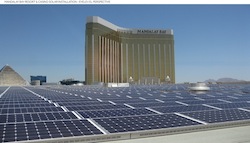 At peak production, the rooftop array is expected to produce nearly 20 percent of the Mandalay Bay's power demand. This in turn will also lower demand on the southern Nevada electricity grid at the hottest time of the day, decreasing the need to import energy from outside the local energy system thus reducing energy costs for the entire Las Vegas system.
"Integrating environmentally responsible practices throughout our operations has been a key pillar in MGM Resorts' strategic sustainability plan," said Jim Murren, Chairman and CEO of MGM Resorts International. "Partnering with NRG Solar to install the solar rooftop at Mandalay Bay highlights a major milestone in our efforts to promote renewable energy and reduce our consumption of the planet's limited resources."
MGM Resorts chose the Mandalay Bay Resort Conference and Convention Center for its new solar array due to its large sun-oriented rooftop space, which spans roughly 20 acres. Once the project, custom designed and developed by NRG Solar, is completed, Mandalay Bay will buy the energy created by the array though a power purchase agreement (PPA).
"MGM's desire to advance environmental stewardship in support of a cleaner future speaks to the quality of the organization," added Tom Doyle, President and CEO of NRG Solar. "At the same time, it's an intelligent business decision. The new 20,000 panel solar rooftop array at Mandalay Bay will effectively enable the resort to lock in a substantial component of its energy costs at a very competitive rate. Our expectation is that other corporations will follow thought-leaders like MGM Resorts to protect our planet."