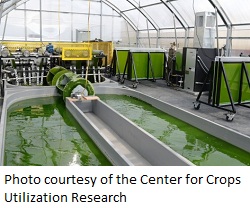 Researchers at Iowa State have a new facility to grow algae for a variety of uses, including biofuel production. This news release from the school says the facility's innovative design is attracting a lot of interest from other universities and private industry.
The facility contains a novel biofilm-based cultivation system designed by Martin Gross, a graduate assistant in agricultural and biosystems engineering, and Zhiyou Wen, an associate professor of food science and human nutrition.
The cultivation system allows for easy separation of algae from water, which is usually an expensive and often time-consuming process requiring the use of a centrifuge or other costly equipment. The new cultivation system at Iowa State sidesteps that process by passing through the nutrient-rich water a cotton-based biofilm, which collects the algae. After that, the algae are simply scraped off the cotton material. It's a simpler, more efficient way to cultivate algae, Wen said.
The school compares the technologies at the facility to a lazy river, with a shallow channel of water and a gentle current to keep the water moving, as well as 200-liter flat panel bioreactors.