The Avantha Group Company CG has been awarded a contract for the design, engineering, supply, installation, upgrading and building the overall electrical system and commissioning of a WINDSUB (wind farm substation) at the 75 MW Seine Rive Gauche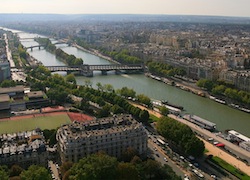 Nord wind farm located in France. The wind farm is sited in the Aube department on the left bank of the river.
The project scope includes all electrical, mechanical and civil engineering works, supply of two 45 MVA step-up power transformers, medium voltage and high voltage Air Insulated Switchgear (AIS), Substation Automation System (SAS), buildings and ancillaries. The substation will help to integrate wind energy and boost power supplies to meet the growing residential demand besides reinforcing the transmission grid and improving reliability, efficiency and power quality. The total 150GWh of installed capacity will produce electricity for over 55,000 households with an estimated reduction in emissions of 130.000 tons of CO2 per year.
"This is yet another proud moment for us. We thank Nordex and H2air for awarding CG the contract," said Avantha Group Company CG's CEO & Managing Director, Laurent Demortier. "This win demonstrates CG's local project management strengths, and on and offshore track record besides our cost-efficient approach in offering turnkey "design and build" grid infrastructure solutions. The contract is recognition of our offerings and expertise in the renewable energy sector and our commitment to support France's renewal goal and the growing regional electricity needs."
The project is scheduled for completion by mid 2014. Substations include equipment that protects and controls the flow of electric power, transforms voltage levels and facilitates the safe and efficient transmission and distribution of electricity in the grid.